Welcome to our Help Center!
Frequently Asked Questions
How Many Books Can I Sell in a Single Transaction?
The short answer: as many as you have.
Our "Sell my Books" page has a flexible submission form. As you begin to fill it out you can choose to rinse and repeat the process as many times as needed. You may also change the quantity of each book to avoid repetitiveness.
If you are a school district with over 25 books to submit in a single transaction, you can contact us below.
What Types of Books do you Accept?
We accept textbooks, workbooks, pilot programs and publisher samples k-12 of all subject areas including foreign language and business. Textbooks can be from any year or considered obsolete (last year's edition). We do not accept books with missing pages and obscured or unreadable text. We also do not permit the sale of advance reading copies, including uncorrected proofs, of in-print or not yet-published books. 
What is an Advanced Reading Copy? How do I Know if I Have One?
An ARC (Advanced Reader Copy) is an uncorrected proof of a book that has not been fully released yet. These are usually sent to schools in small quantities to review before the book is published.
Many ARC and similar materials will have listed "Not for Resale" across the cover and within the inside cover. Textbook Fare does not accept any type of Advanced Reader Copy.
How do I Tell the Condition of my Book?
A books apparent condition has a few factors. The first is the spine. The spine is the part of the book that connects the pages to the cover. As you can see in the picture below, this book shelf is showing the spines of all it's books.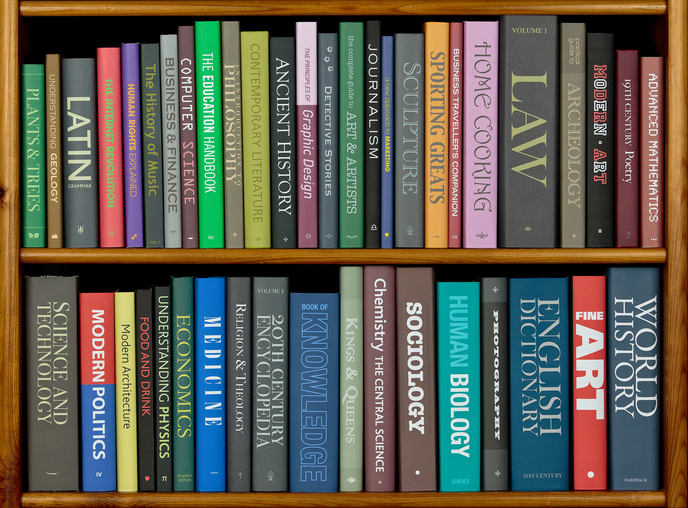 The spine should be crease free and mark free. If the spine is starting to peel off, that will lower the condition of the book.
Another factor is pages. Pages should be as free of marks and highlighting as possible. They should also be tear free and clean.
Now that you understand each of the items focused on, read "What are the different book conditions?" to find out more information on the categories.
What are the Different Book Conditions?
Use these categories when filling out our "Sell Your Books" form on the website! If you are unsure of your books category, you can also use the photo upload feature.
New - Just like it sounds. A brand-new, unused, unread copy in perfect condition. If it has a dust cover or protective wrapping they are both in tact. All supplementary materials are included and all access codes for electronic material, if applicable, are valid and/or in working condition. Books with markings of any kind on the cover or pages, or with any labels attached, may not be listed as New condition.
Like New - Cover is intact, with no nicks or tears. Spine has no signs of creasing. Pages are clean and have no notes or folds of any kind. May contain small marks on outside edges of book, but please mention them in the comments of your submission.
Very Good - Pages and cover are intact and have no notes or highlighting. The spine of the book (That holds the book together) is undamaged.
Good - The cover and pages are intact. Spine may show signs of wear. Pages may include limited notes and highlighting. May include a "from the library of" stamp on the inside cover.
Acceptable - All pages and the cover are intact. Pages may include limited notes and highlighting, but not so much that would make the text unreadable.
What School Districts Will you Work With?
Textbook Fare works with any and all school districts in the United States. If you are a school district with a supply of books that you no longer need, simply fill out our flexible form and receive a quote for what they are worth. 
Where do I find the ISBN on my book?
The ISBN (International Standard Book Number) Can generally be found on the back of a book. It will look like this. 
I Haven't Heard Back From Textbook Fare, What Should I Do?
We provide all customers a quote within 48 hours. Sometimes email spam filters can block or move an incoming message such as one from Textbook Fare. To be sure your quote wasn't missed, check your spam folder and refresh your email.
Occasionally, someone will fill out the form with an incorrectly spelled email or wrong phone number. Please double check the form before sending to ensure all information is correct.
If you haven't heard from us in 48 hours, please fill out the contact form at the bottom of this page with a few details about your previous submission.
Can I Buy Books From Textbook Fare? Or only Sell Them?
Textbook Fare is an online book seller on Amazon.com. If you are interested in browsing our inventory please click here.